It is with great sadness and fond memories that the Byron Society of America recognizes the death of Peter Cochran, one of the most visible and influential Byron scholars of the past decades. The author and editor of numerous books on Byron and his circle, Peter was also a generous supporter of younger scholars, a formidable interlocutor on all matters of Regency life and letters, a loyal attendee of the International Byron Conferences, and a great storyteller, singer, and actor. He will be sorely missed by all of us.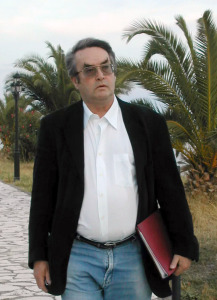 A Letter from Peter's Daughters, Abi and Emily:
 May 21, 2015
Dear Loved ones and Friends of Peter,
Our adorable dad Peter sadly but quite wonderfully died last night. It was as though he'd written and directed the whole scene in advance.
He had a brain hemorrhage on Monday morning, the Doctors said he'd probably just last a few hours. 60 hours later he finally expired.
He was unresponsive and barely moving apart from a labored breath, it seemed unlikely he could hear us or was aware of anything. We stayed with him almost the whole time and talked to him occasionally regardless. We played him poetry and music that we knew he loved.
On Wednesday evening we were exhausted and distressed. After a day of playing him the Ring Cycle (his favourite 9 hour opera) we decided to read him highlights from the large pile of messages and cards he'd been sent over the past couple of weeks. We told him how much he was appreciated and loved, how many people had been grateful for all his work, teachings, writing and help over the years – signs of a life well lived. That all the people he'd inspired with his love of drama and literature would go on to inspire others, that he'd live on in all his writing and his grandchildren who loved him too.
We put his headphones back on and noticed his eyes had welled up.
We told him again how much he was loved, that it was ok to let go now, not to worry about anything, that we'd look after each other and take care of his work. Just a moment later his breathing slowed dramatically and then stopped.
We are still stunned and the strength of his spirit, to hold on so long, and to let go at will. We've been deeply grateful for the messages sent from all over the world in these past days – it has been a great comfort to all of us to know how loved he was.
Feel free to share your memories of him, we'll be adding photos and recent work to his website. Please feel free to share this message with friends of Peter.
We'll be planning a memorial service in the coming months.
Thanks and Warm wishes,
Abi and Emily Cochran